New York City is the "City that Never Sleeps."There's an energy about our community that is part of what we all love, but sometimes you just need to get away. Day trips from NYC can be a great way to recharge your batteries and prepare yourself for another busy week of life in NYC. These destinations are all within a short drive of the city, giving you options for a bit of refreshment.
1. The Catskills, NY
For those who are looking for day trips from NYC that cost a little less than the legendary Hamptons, the Catskills deliver. This mountain region sits about 140 miles to the north of NYC. It's stunning year-round, but particularly breathtaking in the fall when the colors change. You can spend an afternoon hiking through the mountains or fishing at one of the many lakes, or you can experience some of the area's attractions.
Consider the Hunter Mountain Skyride. For $14 you can ride a six-passenger Kaatskill Flyer chairlift to the top of the 3,200-foot summit of Hunter Mountain, where on a clear day you can see all the way to Vermont. Farm-to-table is a popular dining option. The Trotwood at the Glen Falls House offers an exceptional dining experience with locally grown food. Plan $20 to $40 per plate. With so much to see and do, it's no surprise that The Catskills remains one of the top day trips from NYC.
2. Mystic, CT
If you're a child of the 80s or a fan of old movies, you'll want to travel the 130 miles to Mystic, CT, setting of the Mystic Pizza movie from 1988. This maritime village gives you the feeling of stepping back in time. While visiting, you'll definitely want to pick up pizza from the fan-favorite restaurant. Mystic, because of its importance in both maritime history and pop culture, is one of the more popular day trips from NYC.
Spend time at the Mystic Aquarium, where for about $30 you can explore underwater habitats and play with beluga whales, or take a tour of the Mystic Seaport Museum, where you can explore a historic replica of the Mayflower as well as other vessels, take a 25-minute narrated cruise on the Mystic River or reserve sailboats, rowboats, or pedal boats, all as part of your general admission ticket which is less than $25. After your tour, plan some time to meander among the historic homes and buildings of this picturesque coastal community.
3. Fire Island, NY
If you're wanting to stay a bit closer to home when planning day trips from NYC, head 60 miles east of NYC to Fire Island. This barrier island gives a relaxing seaside experience with pristine beaches and a low-key vibe. Grab the ferry from Bay Shore to get to the island for $21 round-trip. No cars are allowed in the summer, so you'll get a real chance to unwind. Rent a bike to explore the communities, or set up shop on the beach to enjoy the waves. While there, climb to the top of the Fire Island Lighthouse for great views and grab burger and a rocket fuel, the island's specialty drink, at CJ's.
4. Sleepy Hollow
Don't worry, the legendary headless horseman is long gone, but the village of Sleepy Hollow that inspired the tale still stands. Originally settled in 1640, this village has an ample number of historic homes and properties. It's 30 miles north and accessible via the Metro-North, so this is one of the few day trips from NYC that doesn't require your car. While there, catch a music performance at the Tarrytown Music Hall, explore Carl's Mill, featured in Irving's tale, or the Sleepy Hollow Cemetery to see some of the history of the town from the eyes of those who call it their final resting place.
5. Milford, CT
If you're looking for a less crowded beach and farm stands to shop, this is one of the best day trips from NYC to consider. This coastal city sits between Bridgeport and New Haven and is home to Silver Sands State Park. Its shell-studded sands provide a relaxing day on the beach. Keep your eyes peeled, because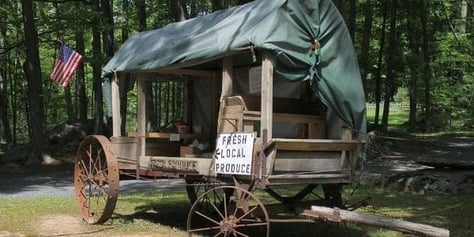 rumor has it Captain Kidd once buried gold doubloons off these very shores. After your trip to the beach, head to Seven Seas for legendary lobster rolls.
While there's always something interesting to see and do in New York City, sometimes you just want to get away. These day trips from NYC are good for the soul, and they don't have to cost a fortune or require an overnight stay. The next time you have a weekend or day free, plan one of these destinations and explore the wonders of the region just a little bit more.