Getting Away From The Hustle

If you don't get out of NYC for a weekend (or a few weeks) here and there, you will definitely lose your mind. It's loud. It's congested. Even your apartment doesn't have the peace you'd like owing to neighbors and weather.
Now granted, you can cope. Anyone can cope. But you need a break. Scientific studies found that when employees have a fifteen-minute break every couple hours, they do better work. If that's true in the employment sphere, wouldn't such a thing make sense in the residential arena as well?
With that in mind, here are collected a few weekend getaways you might want to look into. These are affordable, mass transit travel to any of these spots is available, and you can get the whole weekend done for well under $500 or treat yourself and splurge. Without further ado, let's explore a few fine weekend getaways from NYC: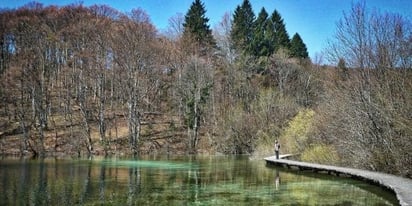 Exploring Famous Woodstock

For $30.25 you can take a bus trip slightly under three hours right up to Woodstock. The Woodstock Inn On Millstream starts at $162 a night, and everything bout that hotel is just gorgeous. The bus runs twice a day, and you've only got about 100 miles between Woodstock and NYC. So if you drive, you can drive it in two hours.
You're looking at between $20 and $40, round trip, for the drive--depending on your vehicle--or $60.50 for the bus. Add $80 for a minimum hotel, and you're looking at a weekend for $140.50 in Woodstock, a locale famous for its pop culture history, as well as its laid back picturesque geography.
Picturesque Hudson

Speaking of picturesque, you can't forget about Hudson in the Catskill Mountains along the river. Catskill is an English rendering of a Dutch word that meant "wildcat creek".
Hudson has some fine local historical attractions, dining, shopping, and hiking. You can take a train up there for $43 to $93, depending on how high-class you go. A bus takes just under four hours and is $35 to $64, you can do it in a little over two hours in a car for $12 to $18. The Wick, Hudson (a tribute "portfolio" hotel) offers rooms starting at just $149 a night.

Historical Beacon

South of Hudson along the river of the same name is Beacon, NY. Also in the Catskills, Beacon has fine dining with gorgeous views of the river, historical attractions, and shopping
Hotel Beacon starts at $205 a night, and you can find some fine deals online. A train ride is a little under an hour and a half and will cost you $13 to $28. You can drive it in a little over an hour for $6 to $9.
A Placid Getaway

A hilarious movie with Betty White called Lake Placid came out a number of years ago, and it was a horror/comedy about a crocodile in the waters. That's neither here nor there, but the beauty of the region--that's what you'll see in that film. It's a fine lake, though it is a little further north than other items on this list.
A bus ride will be a little over eight hours and cost $53 to $106. The drive is five hours and will cost $28 to $45. You can fly up for $163 to $500 if you'd like, making this option a contender. The Crowne Plaza Lake Placid offers rooms starting at $97 a night.
Finding Peace In A Weekend Getaway

Get out of NYC for a weekend. It will be good for your soul. Placid, Beacon, Hudson, and Woodstock have much to offer. If you haven't checked out the Catskills recently, now might be the time to explore a little!